On the 15th-16th January, members of the HELP project team (Elena, Sarah, Vijay, Anh, and Phil) attended the Global Action Towards Universal Clean Energy Access Among Displaced People and Host Communities conference in Berlin.
The conference laid the foundation for next steps in the five working areas and for raising political awareness around the important role that energy plays in humanitarian assistance. These five working areas cut across the aims of the HELP project including data and evidencing, innovative finance, policy and advocacy, and capacity building.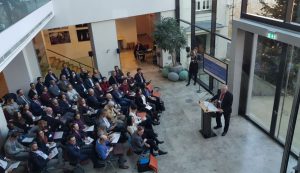 The conference resulted in the120 delegates agreeing to collaborate to:
Improve energy practice and policy in humanitarian settings. This will result in reduced energy and associated environmental pressures in host countries, and improved resilience of communities and host countries.

Involve displaced people and host communities in the new Global Plan of Action to reflect their priorities and needs. This will require coordinated strategies and effective communication across all stakeholders for long-term sustainable energy access.

Bolster finance for sustainable infrastructure investments. This will include delivering innovative financing methods for the sector.

Utilise the skills and capacities of displaced people and ensure they have an active role 

for

 future energy interventions. This includes creating jobs where possible.

Harmonise and standardise high-quality, usable data and evidence across the sector for monitoring, learning and evaluation.
Sarah Rosenberg-Jansen (Practical Action), a HELP project team member, will be leading the Data, Evidence, Monitoring and Reporting work package from this initiative. The aim of which is to develop standardised processes for collection and reporting of disaggregated data on fuel use, energy practices and costs.